Wouldn't it be a wonderful idea to invest in companies that produce goods or provide services that we all buy in the world, and therefore, are the world largest companies, the fastest growing and most profitable and safe?
It makes sense, doesn't it! We invest in what we consume and all the others consume.
We spend and give a lot of money to these companies. Make 'em grow. Make money. Increase profits. These are the winning companies. Of the most profitable. Of the fastest growing. That invest. Those that have better prospects. So, these are the not only the companies that are more able to pay off their investors or shareholders, but also are ones of the safest. Companies that manufacture everything that we buy: mobile phones, internet, watches, televisions, automobiles, clothing, food, energy, oil and gas, large appliances, cosmetic products, hygiene products, medicines, transportation, hotels, etc.
Companies that sell everything that we use: telecommunications, electricity, banking and insurance, information technology, search engines, e-commerce, social networking, etc.
Usually these companies are the market leaders and with the higher brand recognition.
As we get up we use shampoos, shower gel, hair conditioner, toothpaste, shaver (Procter and Gamble), shaving cream, deodorant or moisturizing creams (Beiersdorf), perfumes and other cosmetic products (L ´ L'Oreal). For breakfast we have cereals, yogurt (Danone) or other morning snacks. We always go with an Iphone (Apple), a Galaxy (Samsung) or another phone in our pocket and with a watch on the wrist (LVMH, Richemont or another). We go to work by car in a Volkswagen, Renault, BMW, Ford, Toyota, Mercedes, Kia, Honda or Hyundai or another. We listen to music on Spotify and we see movies and series on Netflix. We use traffic maps and weather applications from Google. When we arrived to work our computer is increasingly likely to be a laptop or a tablet from HP, Lenovo, Mac (Apple) or another. We use Microsoft Office and do research on Google. The PC or laptops can use Intel processors and Nvidia graphics slot cards. Throughout the day we take a look into our Facebook page and we exchange messages on Twitter. We shop online at Amazon. We buy clothes or home furnishings in Zara, H&M, LVMH or another. We pay with Visa or Mastercard card. When we get sick we take medicines from Pfizer, Merck, Abbvie, GlaxoSmithKline, Sanofi or AstraZeneca. We book trips on Tripadvisor, Expedia or another. Travel in airplanes of Boeing or Airbus. We have Siemens, Míele, General Electric or Ariston appliances. We use Sun or Skip detergents (Unilever). We do exercise with sportswear outfits from Nike or Adidas.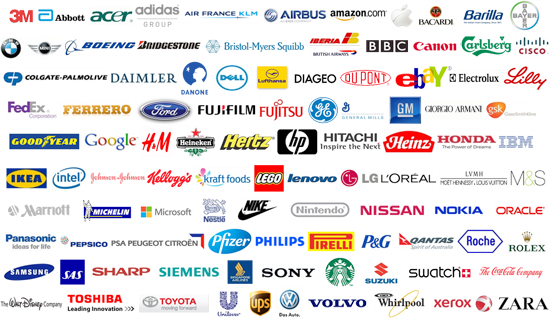 In Asia and increasingly around the world we know that the major companies are Alibaba, Tencent, JD.com, etc.
And what if we could invest in all of these biggest companies in the world, with simplicity and low cost, wouldn't it be phenomenal?
All these companies – Apple (Iphone and Mac), Microsoft (Office), Amazon, Google (search, maps), Facebook, Pfizer, Johnson & Johnson, Visa, Procter & Gamble (Gillette, Oral B, Tide, Pampers, Head and Shoulders, Pantene, Fairy), McDonald's (hamburgers), Inditex (Zara), Beiersdorf (Nivea), Unilever (Knorr, Hellmann's, Dove, Omo, Skip), BMW, Daimler, Volkswagen, Renault, Coca Cola, AbbVie (medicines), Nike (sport), LVMH (luxury clothing and spirits), Bayer (chemical and agricultural products), BASF, Sanofi, Adidas (sportswear), LÓreal (beauty products), Airbus, AB InBev, Danone (Yogurt), Samsung (Galaxy), Siemens (appliances), SAP, AstraZeneca, Diageo (spirits), GlaxoSmithKline (pharmaceuticals), British American Tobacco, Vodafone, Sony, Alibaba, Tencent, Baidu, Taiwan Semiconductors, Petrobras, … – and many more of the biggest in the world, are part of the main stock market indexes worldwide (and also bond indexes).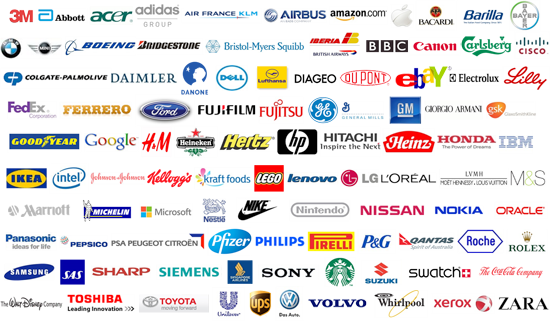 Beyond those companies there are many other that while each of us might be not a consumer, are also the ones with more customers, more sales and more profits. The largest companies in the world.  Multinational, regional or local companies. Big banks, oil, electricity, telecommunications companies, etc.: JP Morgan Chase, Bank of America, Banco Itaú, Exxon, Chevron, AT&T, Total, Allianz, Banco Santander, Deutsche Telekom, Eni, Enel, Telefonica, Iberdrola, Lloyds Banking Group, Rio Tinto, China Mobile, China Construction Bank, ICBC, Ping On Insurance. Companies from countries as USA, Eurozone, United Kingdom, Japan, Canada, Australia, China, India, Brazil, Mexico, Russia, Poland, South Korea, Taiwan, Egypt, Turkey, South Africa, etc. We can have a share their profitability and growth. We can be entrepreneurs or businessmen. Of all those businesses. Mostly, very good businesses.
https://www.consumergoods.com/top-100-consumer-goods-companies-2021
https://howmuch.net/articles/world-most-admired-companies-2018
https://fortune.com/worlds-most-admired-companies/
Today, all this is possible, very easy, can be done with low invested amounts and has very low costs.
Today, it is possible to invest in all these companies.
These companies are in the major global stock market and bond indexes. And today there are mutual funds or or investment products indexed to these indexes. They are investments that contain, either directly or indirectly, stocks and bonds of all those companies, and that in this way, replicate their growth and market performance.  With a single investment in one of these funds or similar products, we are investing in tens, hundreds or even thousands of these companies.  The minimum capital needed to invest in these investment index funds or similar products is very low, of the order of a thousand euros and in some cases even less.
And investment costs are also very low because their management fees and transaction costs are much lower than the funds where the professional managers make your own selection of investments. As we shall see in another post, at the limit, it only takes two investments for a reasonable diversification. It is obvious that we can improve diversification if our wealth is greater than thousands of euros and we have more capital to invest, but in any case one does not need to do more than 6 to 10 investments. We will see yet another post that professional managers can't usually do better than those types of passive funds or investments.
Our spending is income and profit of these companies. We want their revenues and profits are our gain! This is the logic and the rationale of passive management.