What to expect from 2020 after a year in which strong gains across all financial markets surprised most investors?
Globally resilient and balanced macro context, low interest rates and mitigation of major geopolitical risks sustain equity markets
Executive summary
In 2019, all stock and bond markets segments without exception had an excellent performance, one of the best of the last four decades, contrary to what happened in 2018 and especially at the ending of this year.
The stock markets performed very positively in developed markets, with emphasis on the gains of almost 30% in the U.S. and the Eurozone, and with very low volatility. Bond markets also performed well in this period, although with less significant gains, between 10% and 20%. Commodities were 5% up and the dollar was valued at 2% against the euro.
For the first time in many years, there has been no talk of serious threats of inflation or deflation, external or budgetary imbalances or even country failures, in the major economies or regions worldwide.
The factors that contributed the most to this performance were the inflection of the US monetary policy, the decrease in some of the main geopolitical risks (trade war and disordered Brexit) and a reasonable but balanced macroeconomic context in the its various dimensions.
Key macroeconomic indicators, including leading indicators, have stabilised at reasonable levels, with global real GDP growth rates at potential levels, with moderate pace in advanced economies and higher dynamism in emerging markets, and a stable inflation in the main geographies.
Monetary policies are expansionist around the world, with negative central banks interest rates in Europe and Japan and declining in the US, and fiscal policies are expansionist in central Europe and China.
Business operating margins and consumer confidence are the exception, remaining at a high level.
Corporate earnings stabilised, at a high level, with forecasted annual growth for 2020 between 5% and 10% in advanced economies (developing January earnings season can provide a better guidance).
There has been an expansion of equities market multiples that are now slightly above the historical average in the US, and below this average in Europe and especially in Japan and emerging markets.
Interest rates are at very low levels on all terms with more than $11 billion of bonds at negative rates or about 1/4 of the total market and 1/2 of the market excluding the U.S.
Bond markets are generally expensive, with negative benchmark rates in most developed European countries and Japan, and credit spreads close to historic lows.
Investors' sentiment favours investment in equities compared to bonds, by an increasing demand for a decent return by the most conservatives and a fear of missing the opportunity by the most aggressive.
After the global real GDP slowdown from 3.6% in 2018 to 2.9% in 2019, a recovery is expected to 3.3% in 2020, supported by a resilient consumption, maintaining growth above long-term average and potential levels.
Geopolitical risks have eased by the signing of phase 1 of the trade agreement between China and the US and Boris Johnson's election victory and government programme in the UK on Brexit, although protests in Hong Kong continue and there is an increase in tensions in the Persian Gulf.
This scenario favours the maintenance of the central investors' allocation defined to the different asset subclasses of the financial markets, with some overweighting of equities in relation to bonds, and a preferential allocation to the US and Europe stock markets.
Markets performance 2019
In 2019, all equities and bond markets segments without exception performed excellently, one of the best of the last four decades, contrary to what happened in 2018 and especially in the ending of this year.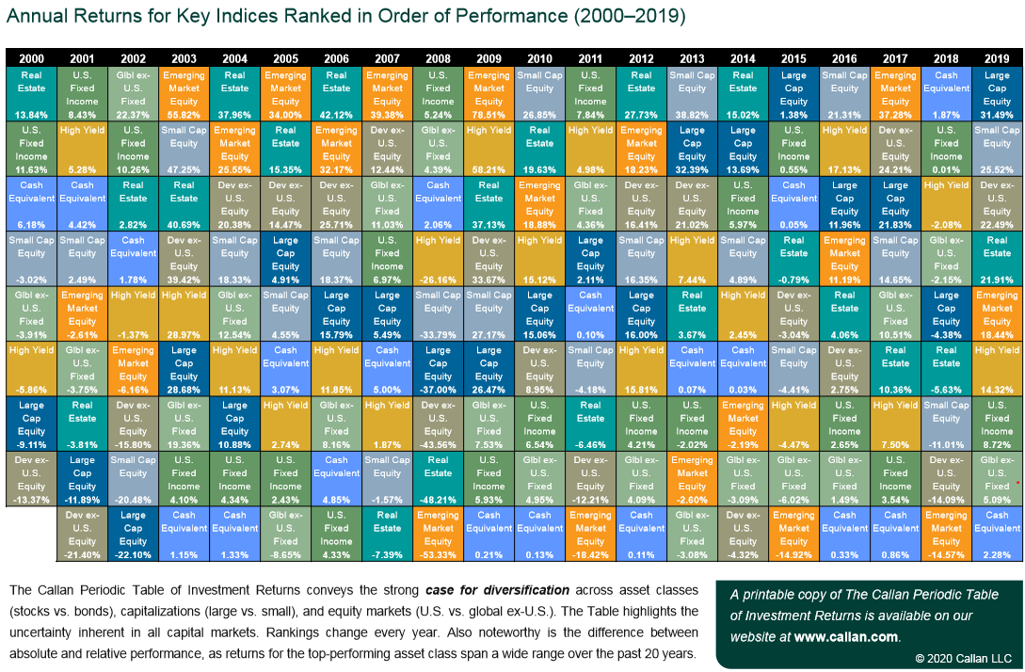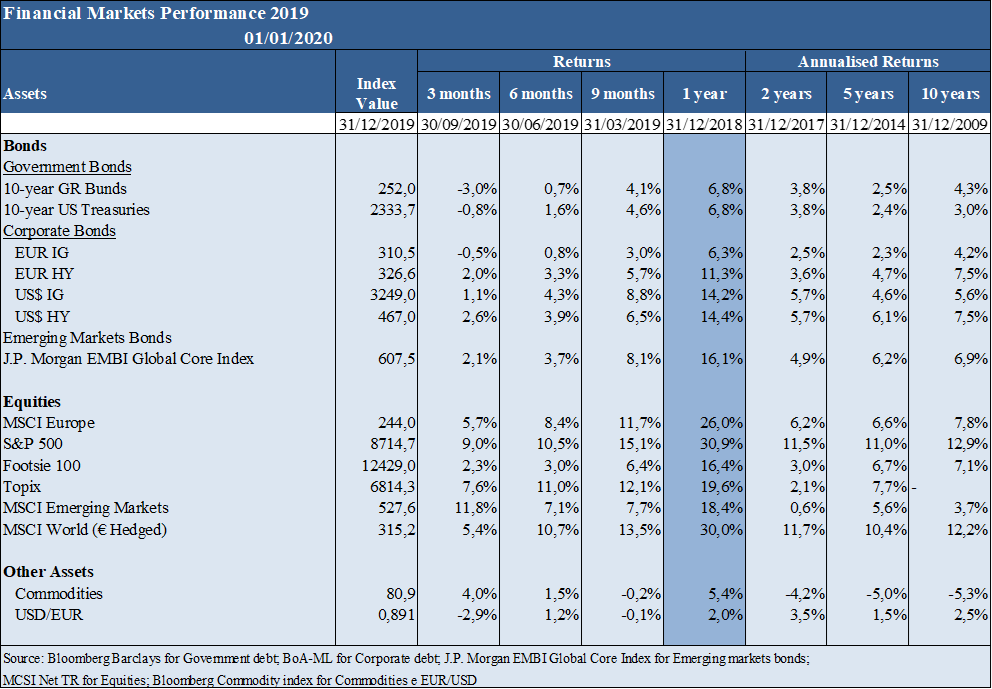 Macroeconomic context: Growth at a low level, but above potential level, with greater dynamism in emerging countries, and without inflationary pressures in developed economies
Real GDP growth fell to 2.9% in 2019, with growth expected to increase to 3.3% in 2020, in line with long term average of 3,5% and with potential level, stabilising in developed markets and increasing in emerging countries, particularly in China.
The inflation rate has been stable in almost all major geographies, around 2% in the U.S., 1% in the Eurozone and 0.5% in Japan.
The main advanced economies have historically low levels of unemployment.
US and China signed phase 1 of a trade agreement in January 2020, with the elimination of some tariffs on goods.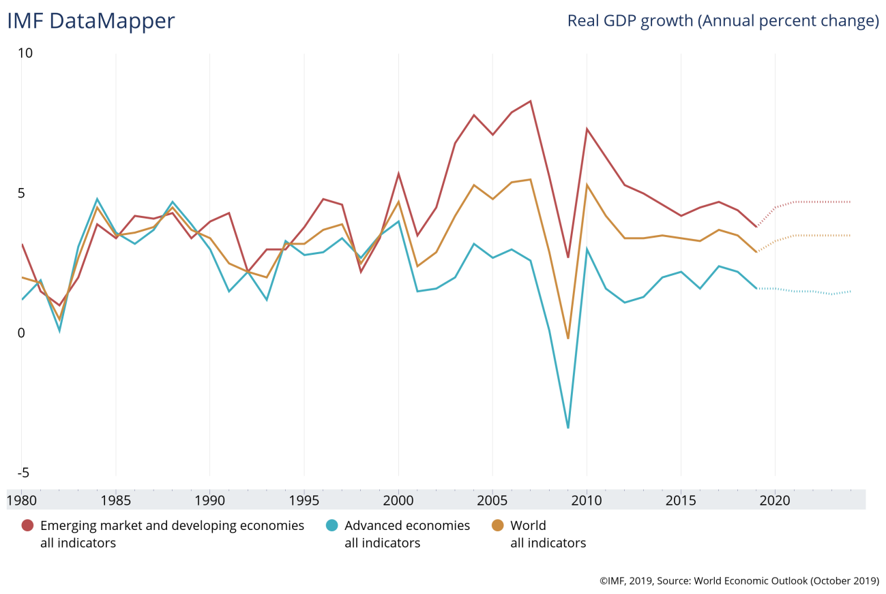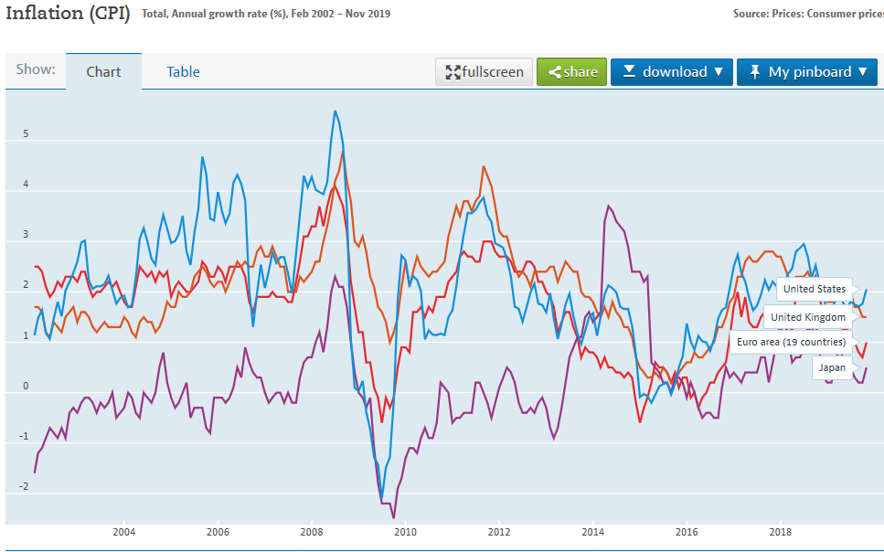 Macroeconomic context: Expansionary monetary policies in the largest economies, with lower central banks interest rates
Major central banks are developing expansionary monetary policies, including the US FED that reversed the cycle of raising interest rates over the past two years and made three interest rate cuts in 2019, and has a monthly asset purchase program of $60 billion until at least the end of the first half of this year to stabilize the short-term monetary market.
Short-term interest rates are negative in the Eurozone, Japan and Switzerland, and declining in the US.
Interest rates on 10-year treasury bonds are close to zero in the Eurozone, Japan and Switzerland, and declining in the U.S. and UK.
Central banks' benchmark interest rates are expected to remain negative in the Euro zone for an extended period and could go until 2024/2025, and that those in the US are expected to remain below 2%.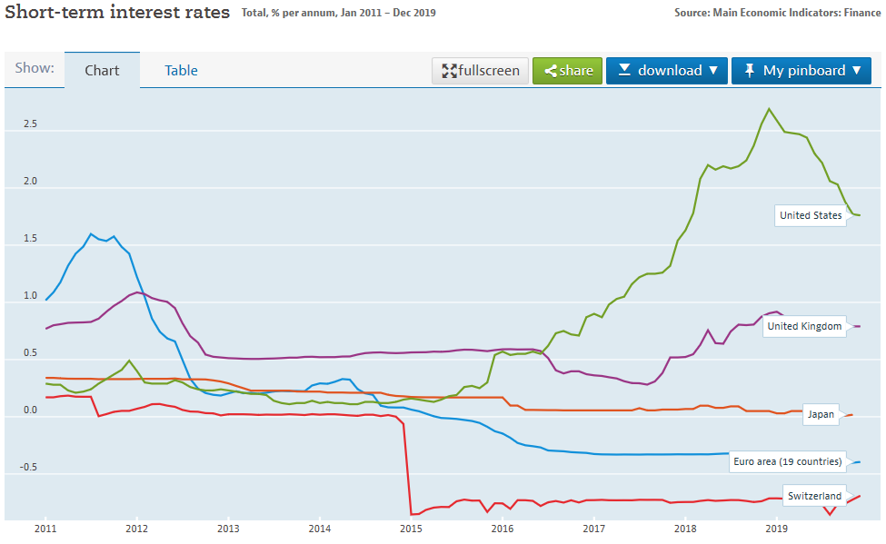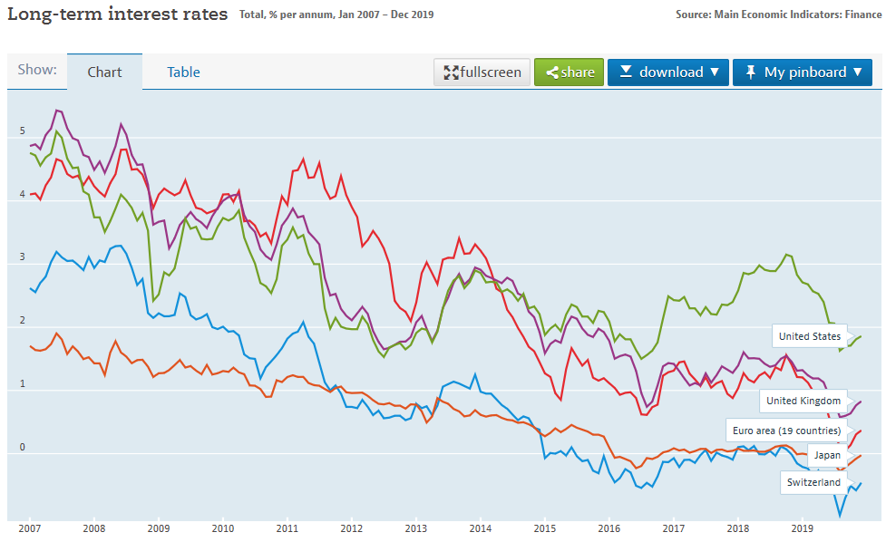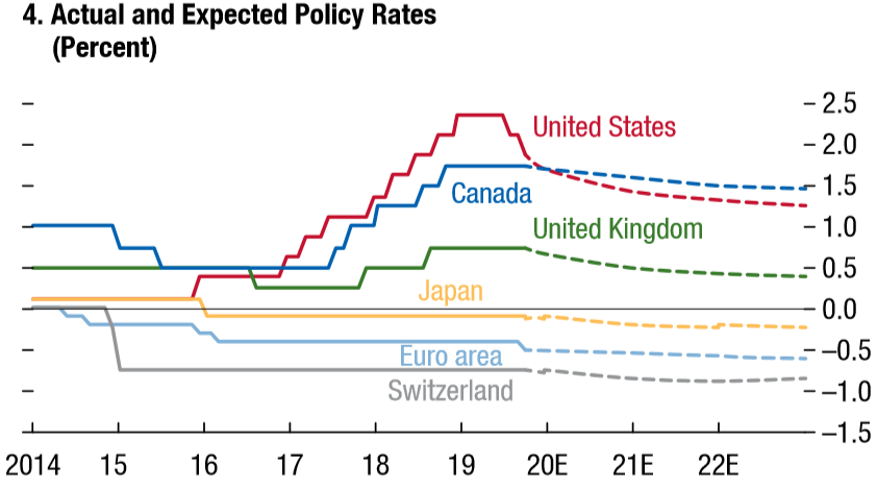 Macroeconomic context: Neutral and limited fiscal policy in major economies, and mitigation of geopolitical risks in the US and Europe
Fiscal policy has been virtually neutral in recent years and countries have little room for manoeuvre in terms of public accounts deficit (with the exception of Germany and the Netherlands).
The impact of fiscal policy on stimulating economic growth has been limited.
Global financial conditions have been quite accommodative in the U.S. and Eurozone and neutral in China and other advanced economies.
Geopolitical risks have decreased with the signing of phase 1 of the US-China trade agreement and Boris Johnson's election victory and government programme on Brexit, although protest movements continue in Hong Kong and there is greater tension in the Middle East.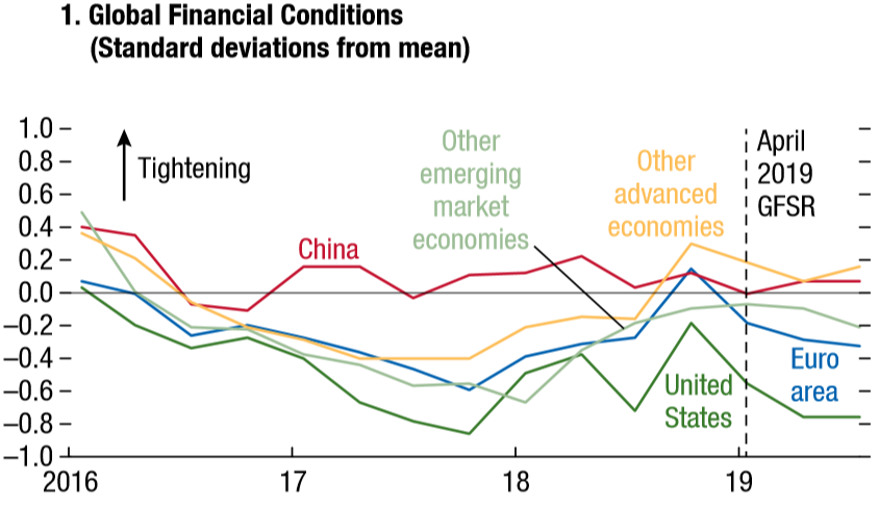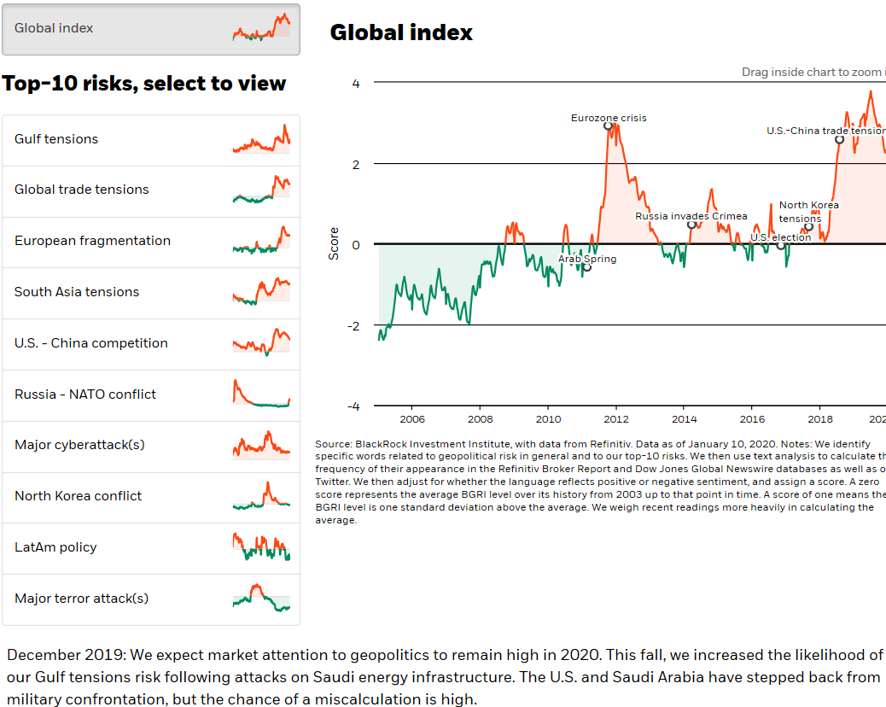 Microeconomic context: Stabilisation of leading indicators, but maintenance of operational margins and confidence levels at high levels
Growth leading indicators (most recent and reported to January), in particular the manufacturing survey (which typically has a performance aligned with that of the MSCI World market index), stopped deteriorating in recent months.
Business margins remain at a very high level.
The business and consumer confidence indicators are also high.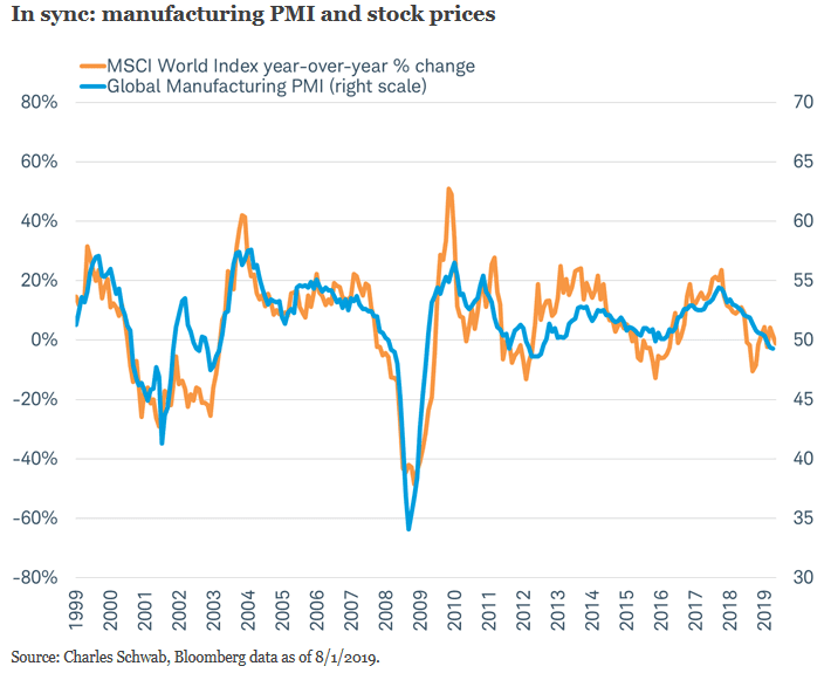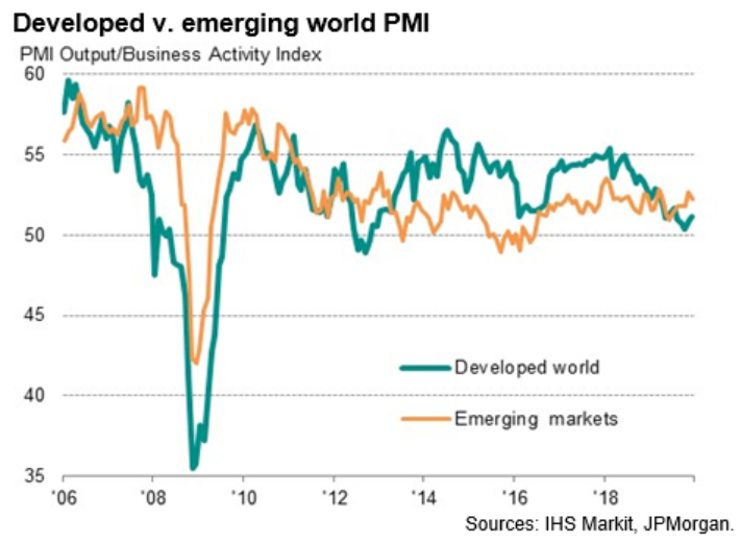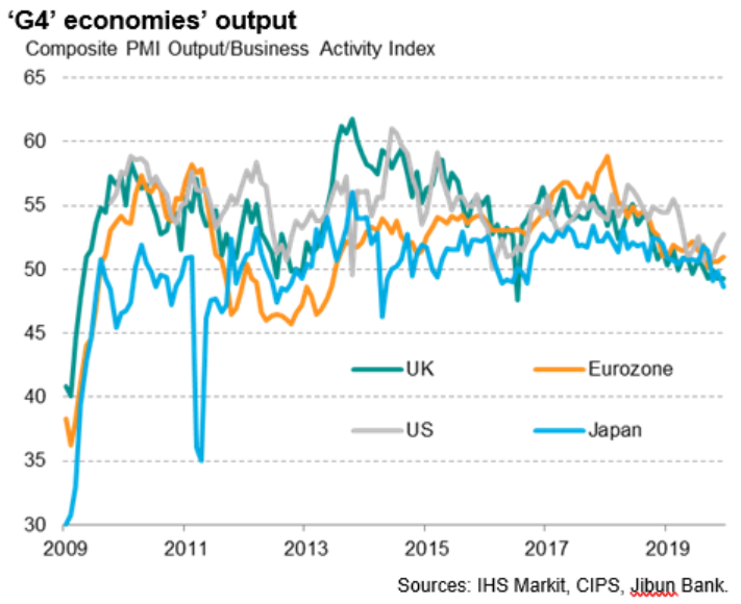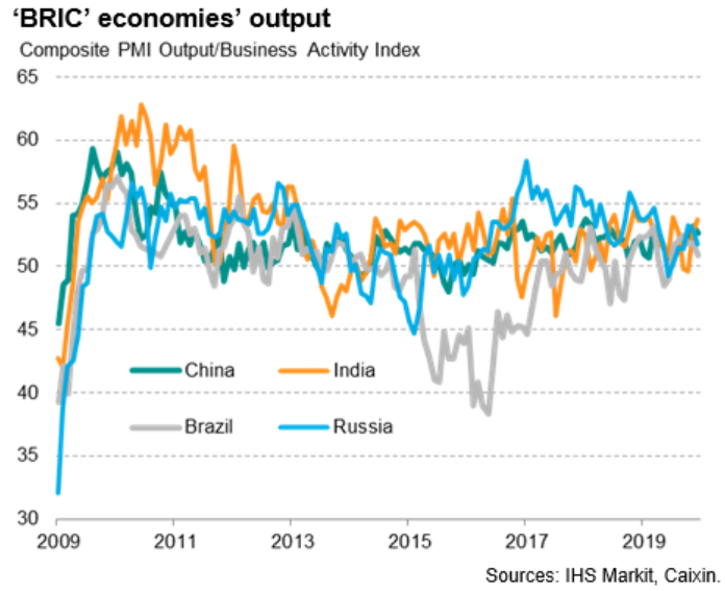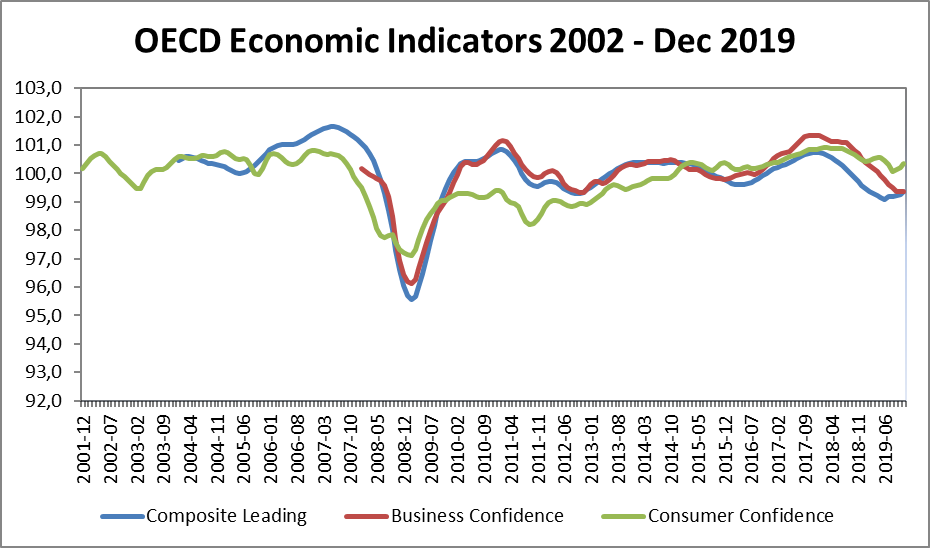 Valuation: Equities markets at fair levels, but with downward revisions of EPS growth forecasts
Global equities valuation is virtually in line with the long-term average, but with differences in the main markets. The 18.7x PER for the U.S. is above average, 14.4x in the Eurozone and Japan are well below average and 12.7x in emerging markets is in line with the average. The US and the Rest of the World relative valuations are at an extreme gap level.
Global earnings per share growth rates of 9.8% are predicted for 2020, which contrasts with the zero growth of 2019 after successive downward revisions at the same starting level, a behaviour similar to previous years with exception of the years 2017 and 2018.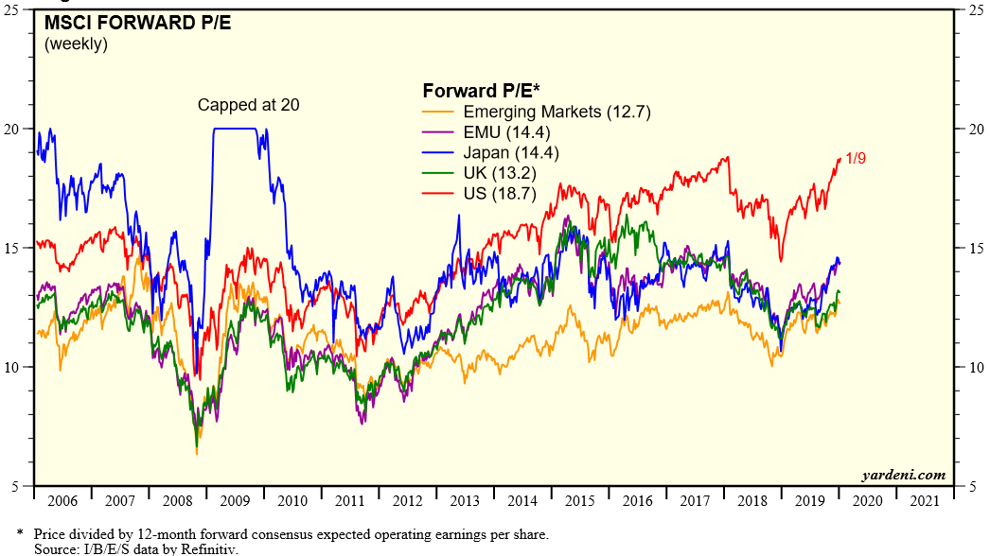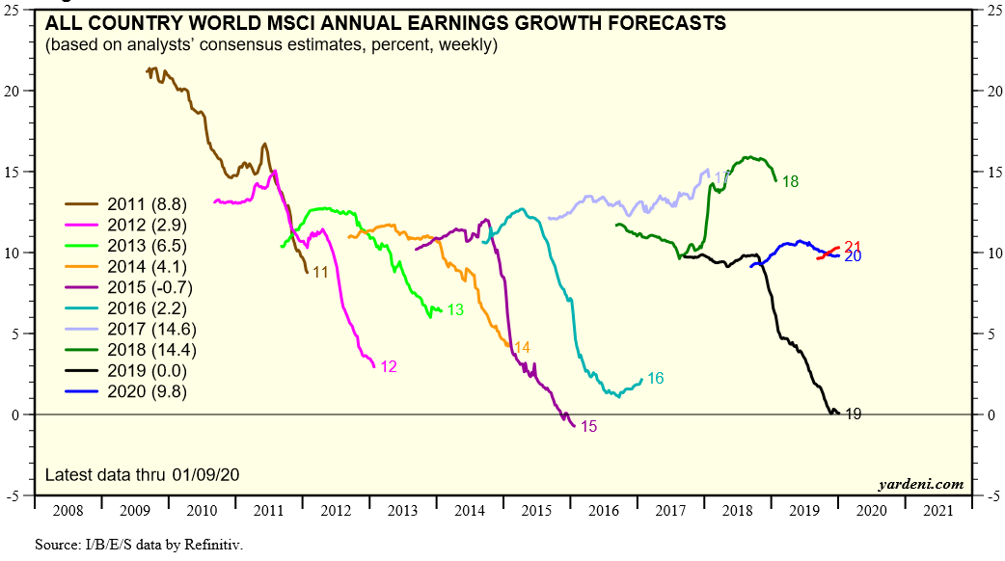 Market valuation: Expensive bond markets, with negative interest rates in Europe and Japan, and credit spreads close to historical lows
About $11 billion of bonds have negative yields, especially in Europe and Japan, representing just under a third of the world market and nearly 50% of the ex-US market as a result of central banks setting official negative interest rates and conducting asset purchase programs.
Credit spreads are at very low levels in historical terms around the developed world. This framework fundamentally reflects the action of central banks' monetary policy, but also the investment policies of key institutional investors (pension funds, insurers, banks and many mutual funds), and some fears of economic recession that have been unwind in recent times.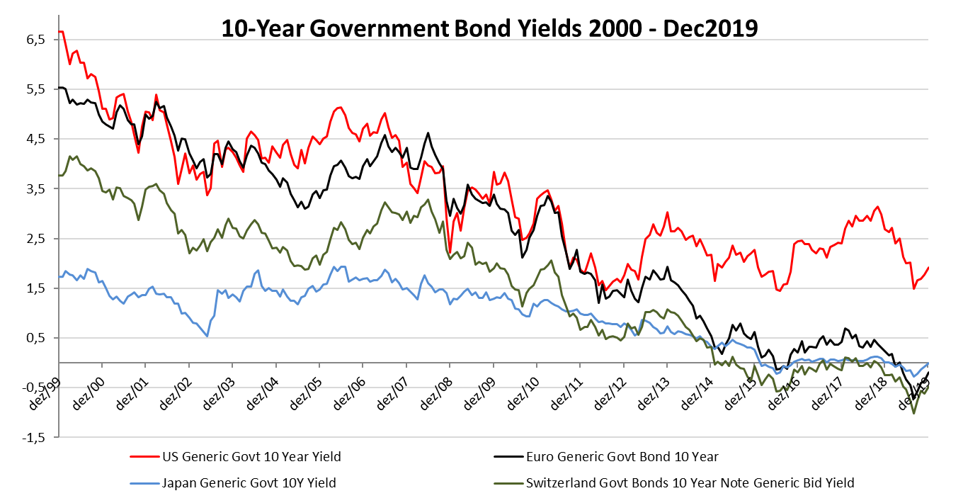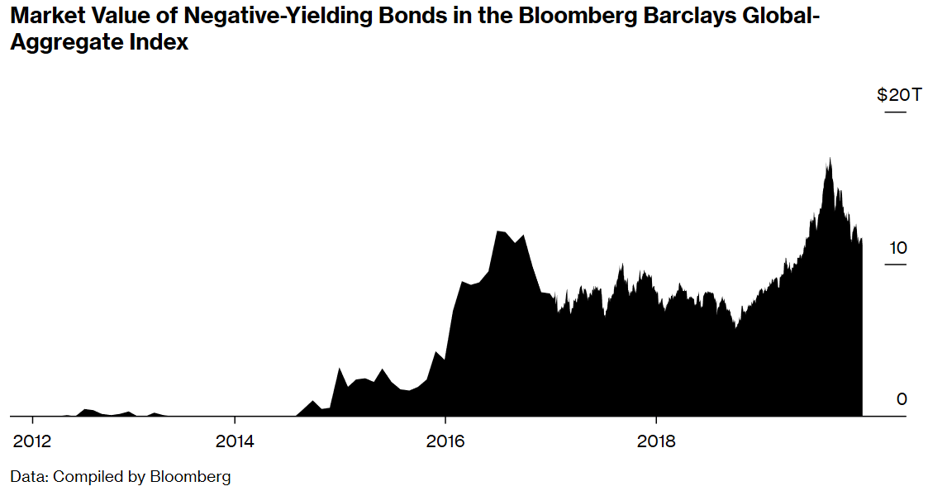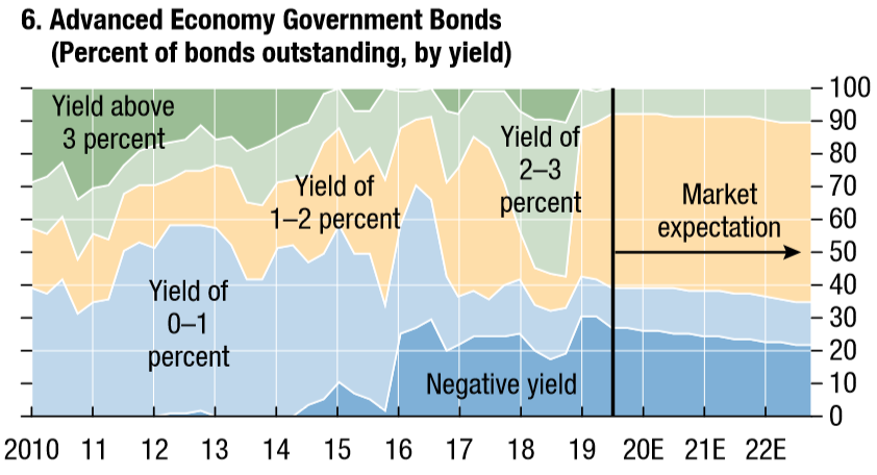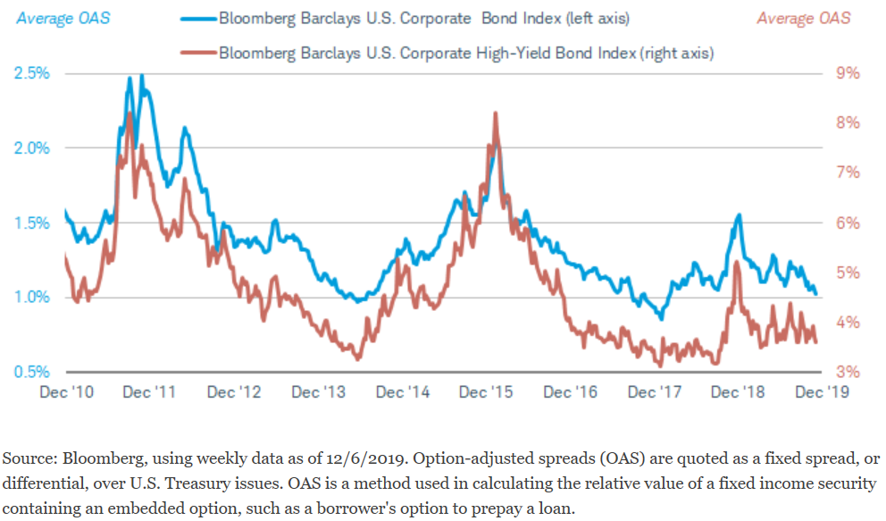 Key opportunities
Global economic growth predicted at 3.3% in 2020, close to the long-term average and around its potential level, with no sharp imbalances in terms of external and public sector accounts in the largest economies, based on robust consumption.
Low interest rates in all advanced economies that are positive for businesses and consumers (less financial costs) and foster investors funds towards equities markets investors (chasing for yield and low opportunity cost).
Good financial capacity of consumers due to low interest rates, low unemployment levels, low inflation rates and increased wealth.
Valuation indicators at reasonable levels for the low-risk macro context at global level, and low interest rates in developed countries.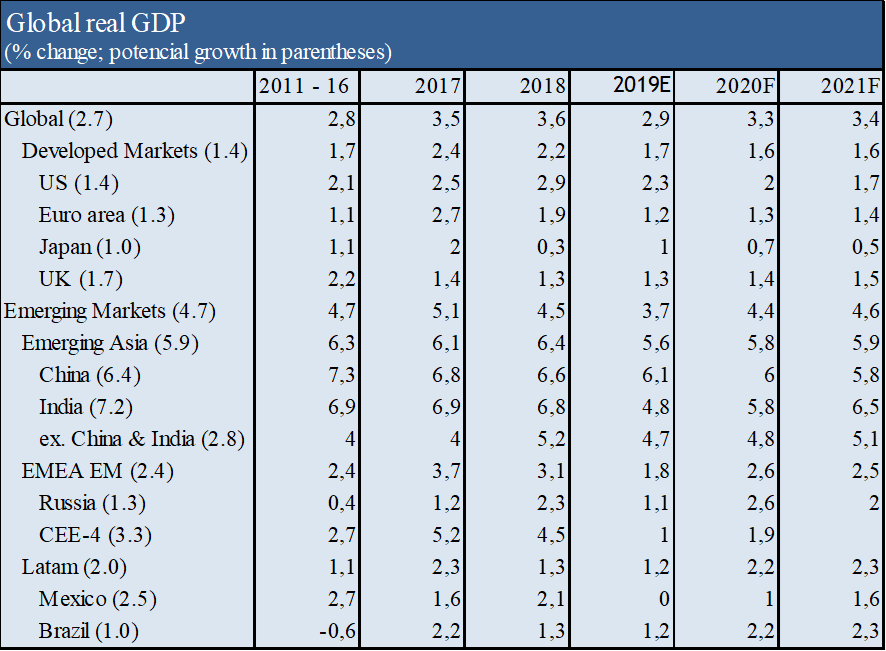 Key risks
Geopolitical risks associated with protests in Hong Kong/China, tensions in the Middle East (Iran, Iraq and Saudi Arabia) and U.S. governance (trump's eventual impeachment and elections in November).
Growth lower than expected mainly in emerging countries, particularly in China and India.