How much does life insurance cost?
The factors influencing the cost (or premium) of life insurance
Life insurance should be taken when you are a young adult with family responsibilities
This article is part of a series on personal insurance.
In the first article of this series we looked at the penetration, densities and expenses of insurance in the world and presented the general program of this series.
We have also seen that we must buy protection insurance against financial shocks of low probability and high impact (loss amount).
In this second article, we discuss life insurance, one of the most important risk insurances of a good personal financial plan, in three parts.
In the first part of the article we saw what they are, their main characteristics and the types of life insurance.
In this second part we will develop the costs of life insurance.
We will only address life risk insurance, that is, those that have only one risk component, without any financial component.
In a next article we will present financial life insurance.
The cost of life insurance can vary greatly depending on the type of insurance, as well as your age, gender, and health status.
The type of life insurance significantly affects costs.
Term life insurance is the least expensive because it lasts a certain number of years and all you get is insurance.
Permanent life insurance lasts a lifetime and includes an investment component that can be used later in life. Because of this additional investment component, you pay substantially more for permanent policies than for term life policies.
Life insurance premiums are mainly based on life expectancy, i.e. age also significantly affects costs.
The older you are, the more likely you are to die, which means a higher risk for insurers.
The table below illustrates the average monthly cost of a life insurance policy for a 20-year term by age, sex, and policy capital in the U.S.: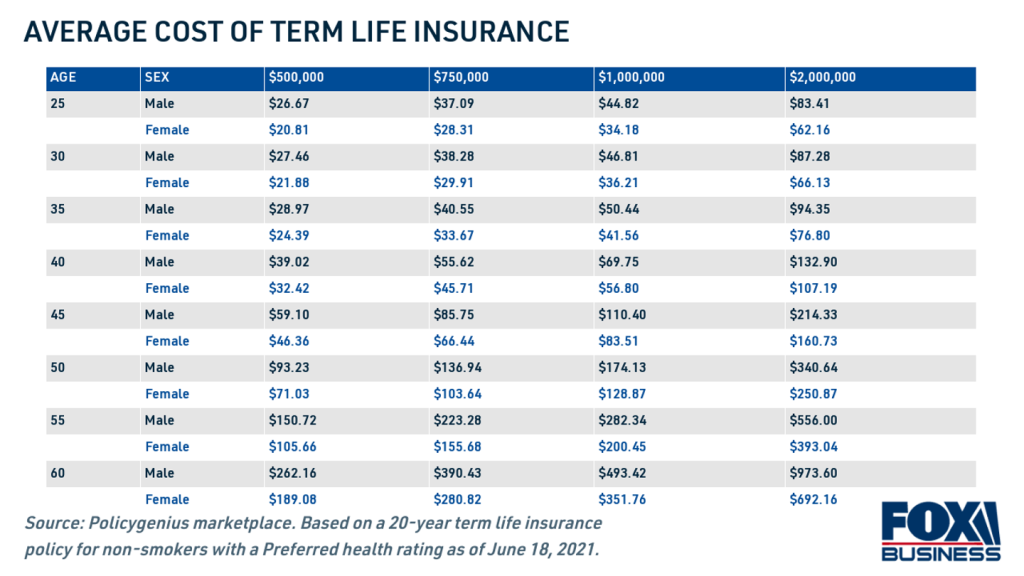 In the US, life expectancy is 81.2 years for women and 76.2 years for men.
The average premium for a $500,000 life insurance policy and 20-year term for a young, healthy insured can be around $25 to $35 per month.
As you get older, life insurance rates increase by up to 9% each year.
Since women tend to have a longer life expectancy than men, they are entitled to lower life insurance premiums.
For example, a healthy 35-year-old woman who takes out a 20-year life insurance policy worth $1 million can expect to pay about $36 a month.
A 60-year-old man who takes out the same policy will pay $493 a month on average.
These costs vary from insurer to insurer and over time.
A policyholder's health rating will also impact the cost of their monthly premiums.
The following link presents the current average life insurance costs in the U.S.:
https://www.nerdwallet.com/article/insurance/average-life-insurance-rates
The following table shows the average cost of full life insurance by age, sex, and policy size in the U.S.: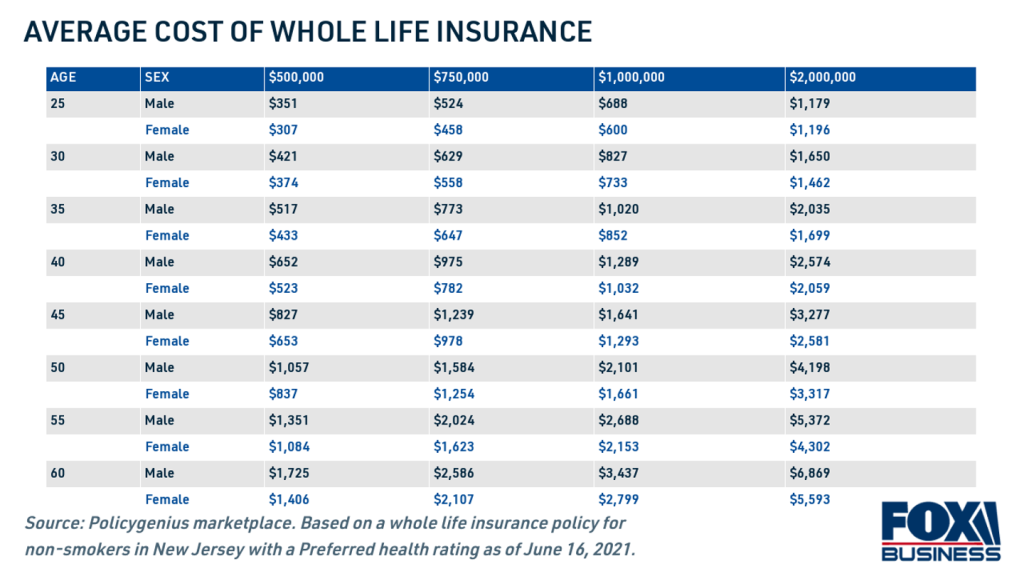 Full life insurance premiums vary widely, costing anywhere from around $300 to $7,000 per month.
Full or full life insurance has much higher premiums than term or term life insurance. While term life insurance expires after a certain term, full-time life insurance lasts for life.
Full life insurance can cost up to 15 times more than term life insurance.
Full life insurance is seen more as an investment than insurance because the cost of the investment is much higher than that of insurance.
These costs vary from insurer to insurer and over time.
In addition to age, there are many factors that help determine costs, including gender, age, health, and risk factors or classes, including pre-existing conditions and the regimen of healthy lifestyle habits.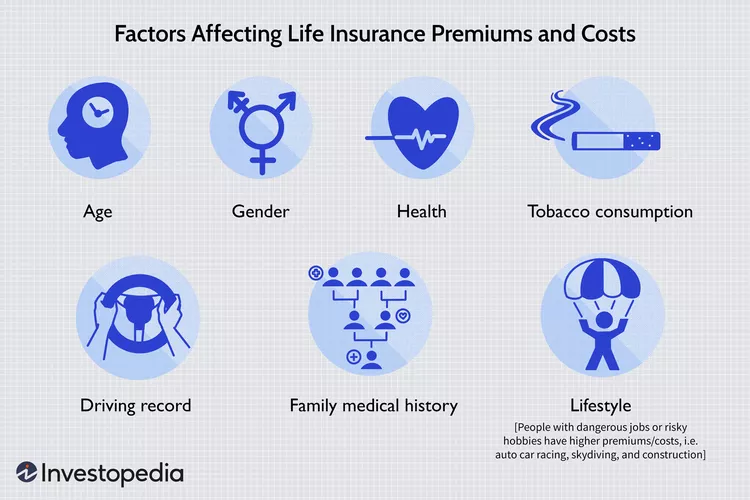 In general, the healthier you are, the cheaper the premiums will be.
The life insurance premium will be higher if the policyholder has high blood pressure, high cholesterol, diabetes or a number of other chronic diseases, or if they smoke cigarettes or use drugs recreationally.
The best way to get a cheaper rate on life insurance is to take out a policy when you are young and in good health.
The following table shows the evolution of the average monthly cost of life insurance for a 35-year-old in the U.S.: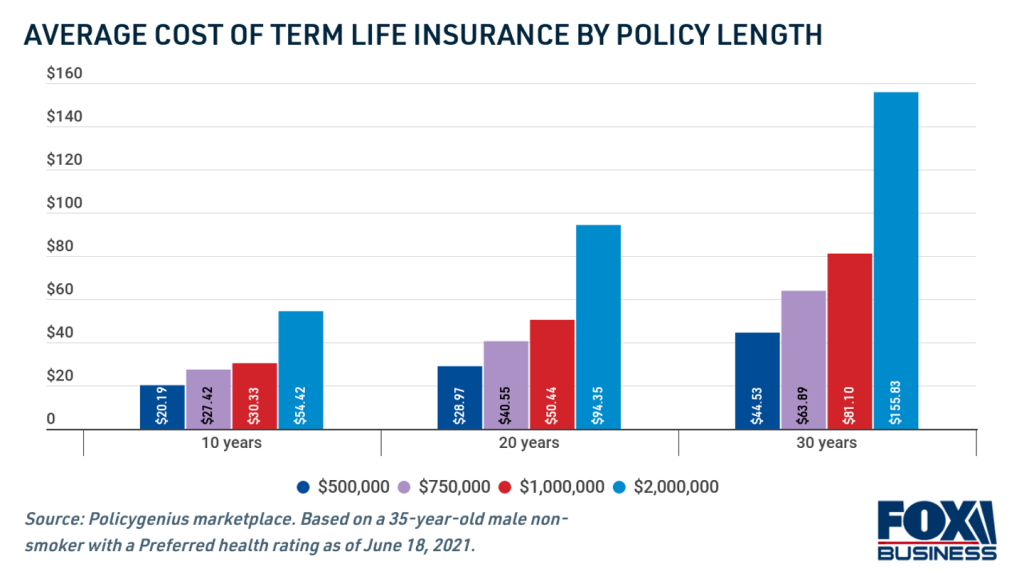 Life insurance policies with shorter terms are the cheapest.
The monthly insurance premium rises from $20 to $44 with the increase of the term from 10 to 30 years, due to the risk of longevity.
That is why it is advisable to buy life insurance as early as possible.
The longer you wait, the higher the costs will be based on age alone.
Delaying the purchase of a policy will always be more expensive.
Consider, for example, the case of a 30-year-old waiting to buy a policy.
At age 40, a 20-year, $500,000 life insurance policy will cost about $100 more per year.
At age 50, the cost of a 20-year, $500,000 life policy will triple.
On the other hand, the right time to take out life insurance varies from person to person depending on family and financial circumstances.
The need for life insurance will be all the greater the more other people depend on the borrower's income, or on the debts that will continue after his death.