The Environment is the 2nd most important factor in sustainable investment decisions by institutional investors
The aspects that focus investors' attention on the environment are various, the most important being pollution, climate change, waste and recycling, water use and renewable energy
Global warming is the greatest ever threat to life on Earth
The main effects are more and greater climate disasters, greater loss of human lives, more polluted water and air, more animal extinction and rising sea levels
The Paris Agreement, the first universal and binding global climate change agreement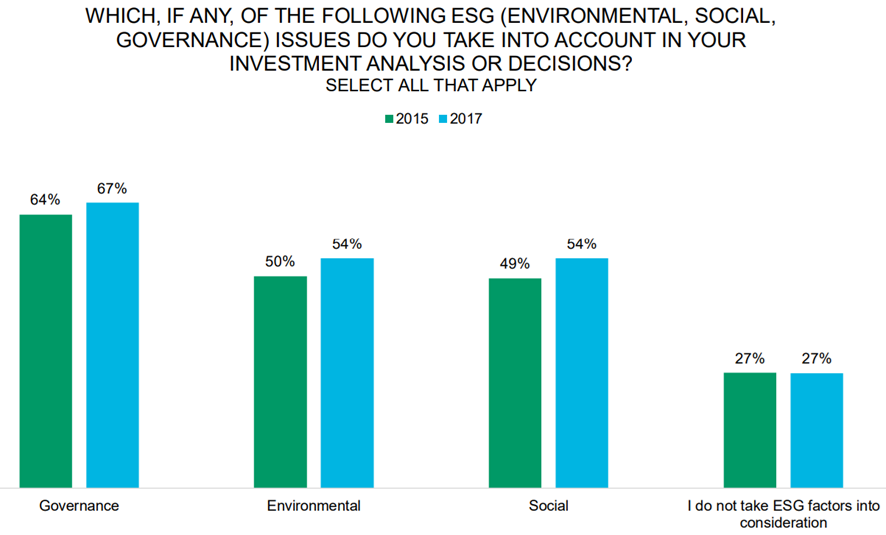 At the environmental level, the aspects that are most of concern to investors are gas emissions and air quality, fossil fuels, health and safety, the protection of biodiversity, the misuse of materials, renewable energy sources, soil contamination, waste generation, energy conservation, the preservation of natural resources and the use and conservation of water.

Environmental degradation, resource scarcity and climate change are the most important issues: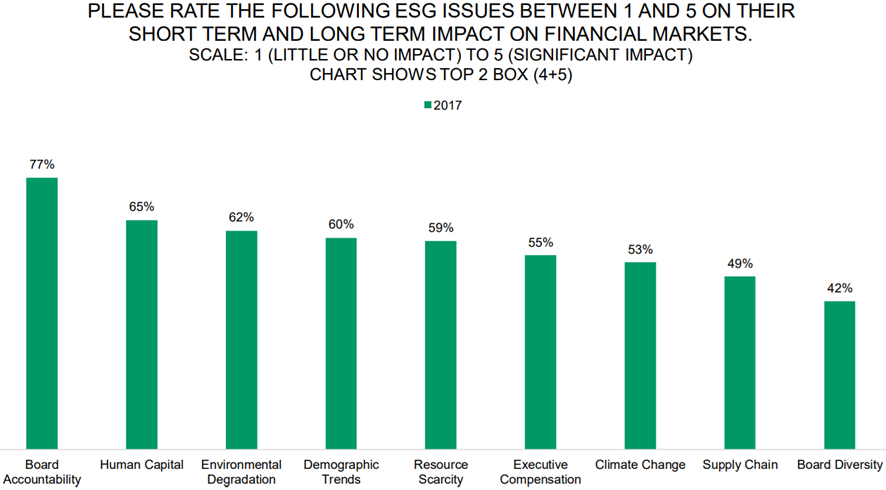 Leading institutional investors see pollution as the main problem, followed by climate change, waste and recycling, water use and renewable energy: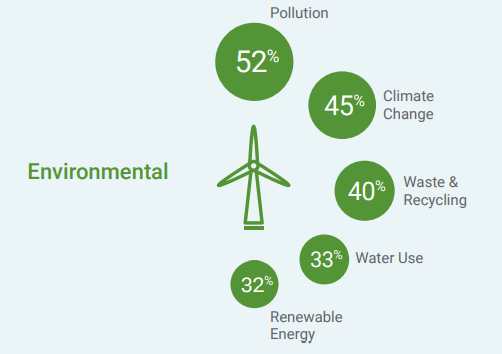 Next, we will look at the various issues related to global warming and climate change.
Climate change is considered the greatest threat to global health and the sustainability of life on Earth in the 21st century.
Climate change includes global warming driven by human greenhouse gas emissions and the consequent large-scale changes in weather patterns.
Since the mid-20th century, humans have had an unprecedented impact on the Earth's climate system and caused changes on a global scale.
Many of these impacts are already felt at the current level of heating, which is about 1.1 °C (2.0 °F). The Intergovernmental Panel on Climate Change (IPCC) has issued a series of reports projecting significant increases in these impacts as warming continues at 1.5°C (2.7°F) or more.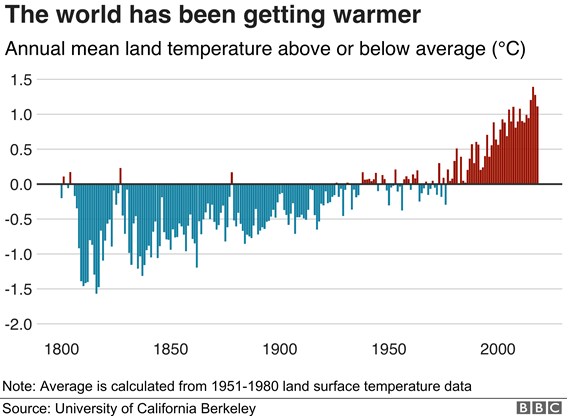 Human activities are estimated to have caused approximately 1.0°C of global warming above pre-industrial levels, with a probability range of 0.8°C to 1.2°C. Global warming is expected to reach 1.5°C between 2030 and 2052 if it continues to rise at the current rate.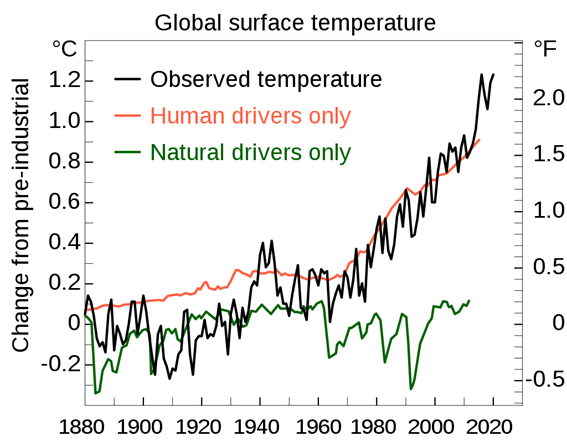 The biggest engine of global warming is the emission of greenhouse gases, of which more than 90% are carbon dioxide (CO2) and methane.
The World Meteorological Organization (WMO) released a report that concentrations of carbon dioxide in the atmosphere have been increasing at a record speed, reaching the highest level in 800,000 years: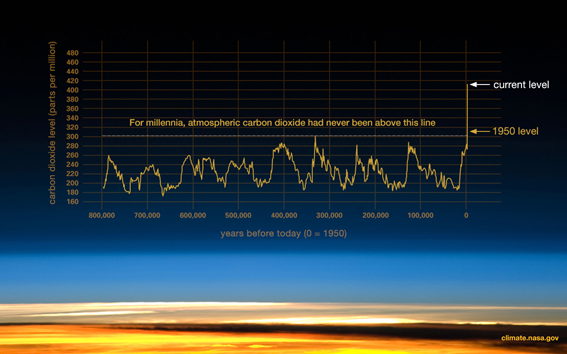 Climate experts estimate that the world will be at least eight degrees warmer by 2100 if global emissions continue on its current path, and this small rise will have serious consequences for all ecosystems and living beings, as is already becoming apparent.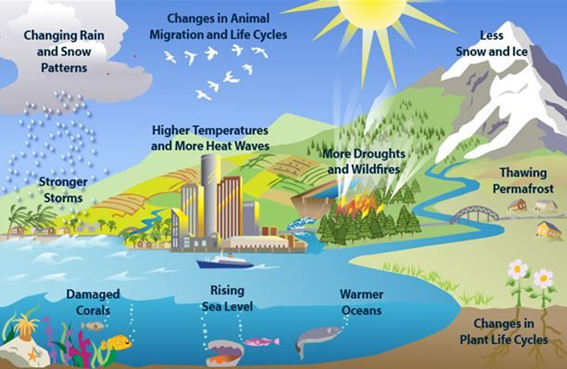 More and bigger climate disasters
Higher temperatures are aggravating many types of natural disasters, including storms, heat waves, floods, and droughts.
Warmer weather creates an atmosphere that can collect, retain and drop more water, changing weather patterns so that wetlands become wetter areas, and drier become dry areas.
The increase in the number of droughts, severe storms and floods puts public health and safety at risk.
Lack of drinking water and health conditions
Drought conditions jeopardize access to clean water, cause large fires, and result in dust storms, extreme heat events, and flash floods. Worldwide, lack of water is the leading cause of death and serious illness.
At the opposite end of the spectrum, the heaviest rains overflow streams, rivers and lakes, which damages life and property, infects drinking water, creates spills of hazardous materials and promotes mild infestation and unhealthy air. A warmer and wetter world also brings food and waterborne diseases and insects carrying diseases such as mosquitoes, fleas, etc.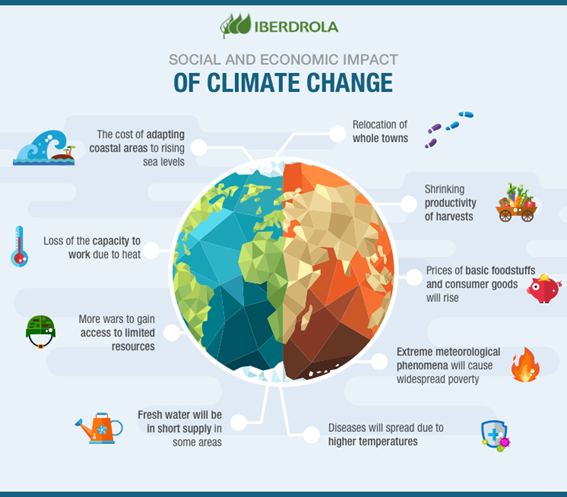 More diseases and higher mortality rates
Climate change is seen as the greatest threat to global health of the 21st century.
Rising temperatures also exacerbate air pollution by increasing ozone at ground level, which is created when pollution from cars, factories and other sources reacts to sunlight and heat. Ground-level ozone is the main component of smoking, and the hotter things get, the more smoke we have. The most polluted air is linked to higher hospital admission rates and higher mortality rates for asthmatic squatting. It worsens the health of people suffering from heart or lung disease. And warmer temperatures also significantly increase pollen in the air, which affects those suffering from hay fever and other allergies.
It is a threat that affects all of us – especially children, the elderly, low-income communities, and minorities – and in a variety of direct and indirect ways. As temperatures rise, so does the incidence of illness, emergency room visits and deaths.
Higher sea levels and coastal line destruction
Polar regions are particularly vulnerable to a warming atmosphere. Average arctic temperatures are rising twice as fast as in other countries in the world, and the world's ice sheets are melting rapidly. Not only does this have serious consequences for people, wildlife and plants in the region, but its impact can be even more severe in rising sea levels. By 2100, it is estimated that our oceans will be one to four meters higher, threatening coastal systems and low-lying areas, including entire island nations and the world's largest cities such as New York, Los Angeles, and Miami, as well as Mumbai, Sydney and Rio de Janeiro.
Higher rates of wildlife extinction
Studies have shown that vertebrate species – animals with backspines such as fish, birds, mammals, amphibians and reptiles – are disappearing 114 times faster than they should, a phenomenon that has been linked to climate change, pollution and deforestation.
More acidic oceans and threat of marine life
Earth's marine ecosystems are under pressure due to climate change. The oceans are becoming more acidic, due in large part to their absorption of some of our excess emissions. As this acidification accelerates, it poses a serious threat to underwater life, particularly creatures with calcium carbonate shells or skeletons, including molluscs, crabs, and corals. This can have a huge impact on shellfish.
To sustain and reverse the worsening of global warming, the United Nations promoted several supra-governmental initiatives that culminated in the conclusion of the Paris Agreement.
The Paris Agreement is the first universal and legally binding global climate change agreement, approved at the Paris Climate Conference (COP21) in December 2015.
The Paris Agreement is a bridge between today's policies and climate neutrality before the end of the century.
The Paris Agreement establishes a global framework to prevent dangerous climate change by limiting global warming to much below 2°C and continuing efforts to limit it to 1.5°C. It also aims to strengthen countries' capacity to deal with the impacts of climate change and support them in their efforts.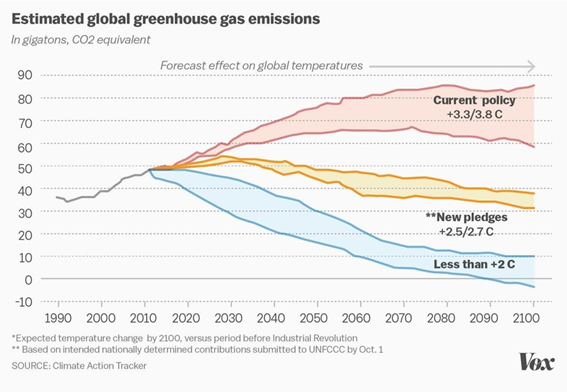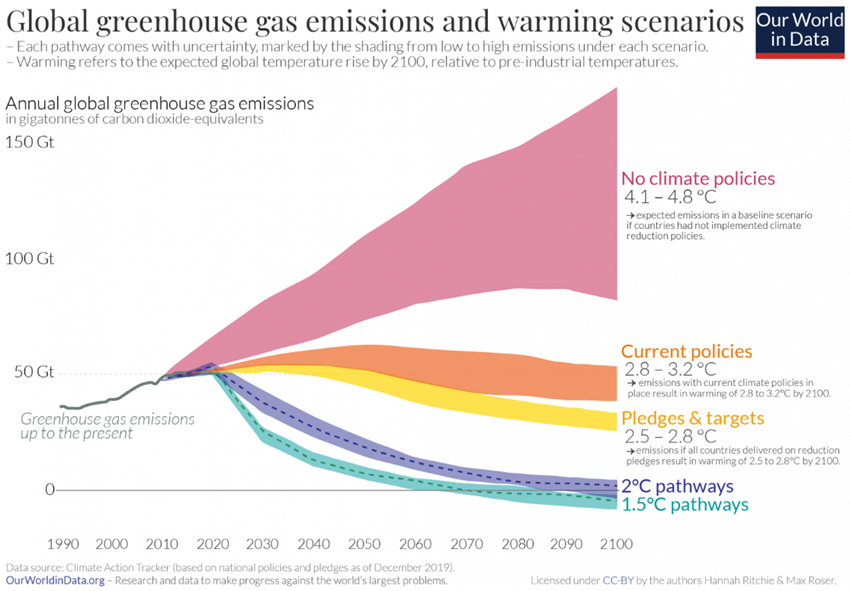 Governments agreed on a long-term goal of:
Maintain the increase in global average temperature well below 2ºC above pre-industrial levels;
Limit the increase to 1.5°C, as this would significantly reduce the risks and impacts of climate change;
Global emissions peak as quickly as possible, recognising that this will take more time for developing countries;
Make rapid reductions later, according to the best available science, in order to achieve a balance between emissions and removal in the second half of the century.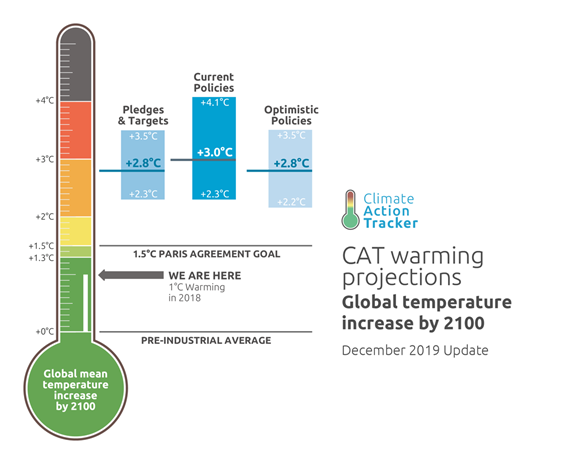 As a contribution to the objectives of the agreement, countries presented comprehensive national climate action plans (nationally determined contributions, NDCs). These are still not enough to achieve the agreed temperature targets, but the agreement traces the way for new actions.
The EU and its Member States are among the 190 countries in the 196 UN that have ratified the Paris Agreement. Of the six UN countries that have not ratified the agreement, the only major emitters are Iran, Iraq, and Turkey, although the Iraqi President has already approved accession. The United States withdrew from the agreement in 2020, but officially returned on February 19, 2021.
https://www.imf.org/en/Topics/climate-change/green-finance
https://www.cfainstitute.org/-/media/documents/survey/esg-survey-report-2017.pdf